Dr Jack Hodge Reviews the Place of GP-Led Urgent Treatment Centres within the Wider Provision of Urgent and Emergency Care in the NHS
Read This Article to Learn More About:
the role of urgent treatment centres (UTCs) as part of the NHS drive to create a standardised and integrated urgent and emergency care service
the services offered at UTCs, including diagnostic and treatment facilities
current use of UTCs, and ways in which they may be optimised in future.
Key points are available at the end of this article.
As identified in the 2014 Five year forward view1 and the 2019 NHS long term plan,2 urgent and emergency care is one of the main priorities for national service improvement. A key element of the NHS's push for integrated urgent and emergency care is the 'roll out of standardised new urgent treatment centres' (UTCs),3 defined as 'community and primary care facilities providing access to urgent care for a local population'.4
Prior to this standardisation, patients and clinicians alike faced a baffling mix of walk-in centres (WICs), minor injuries units (MIUs), urgent care centres (UCCs), and UTCs, in addition to out-of-hours (OOH) GP services, GP health centres, and surgeries offering extended services.4 This confusion was compounded by variation in the treatments and diagnostics offered by each service.4
In this article, I discuss the establishment of UTCs, covering their purpose, development, and structure, and consider whether the health system is harnessing their full potential.
The Rationale Behind the Creation of UTCs 
Ensuring Appropriate Use of Emergency and Urgent Care Services
In an ideal world, emergency care would be delivered in departments with the best expertise and facilities, whereas urgent care would be delivered by responsive urgent care services that are less specialised but closer to home.2,3,5 However, patients are often unsure which part of the urgent care system to attend—a fact exacerbated by the variety of service names—and many people presenting to emergency departments (EDs) do not require an emergency level of care. It has been estimated that as many as 1.5–3 million people in the UK attend accident and emergency (A&E) each year for conditions that could be treated elsewhere,3 and that up to 40% of people attending A&E departments are discharged without treatment.5 Inappropriate attendances contribute to overcrowding and dysfunction within these departments.3,5 Furthermore, in my experience, the assessment process when a patient attends an ED is generally performed by a junior doctor, who is likely to—understandably, given their lack of experience—default to risk aversion and over-reliance on laboratory or radiological investigations.
By improving urgent care services through the UTC model, the NHS aims to reduce the pressure on A&E departments and enhance the efficiency of care. Predating the development of UTCs, a similar drive to improve efficiency and cost-effectiveness was evident in the closure of A&E departments in smaller district general hospitals and their subsequent reorganisation into fewer larger, more specialised departments offering a wider range of services.1,6,7
Triage, Assessment, and Access
Standardising and improving UTCs is one aspect of a wider movement within the NHS to create a more coordinated health service and support patients to navigate the NHS effectively.1–3 This ambition is underpinned by complete remote clinical triage, provided primarily through NHS 111 and associated clinical assessment services (CASs). The goal is to direct patients to the service that best meets their needs, be that A&E, a UTC, or primary or community care, with a booked time slot wherever possible.1–3 This idea is not dissimilar to the spoke-and-hub structure of urgent and acute services employed in other health systems.8
NHS 111
The intention is that most people will access urgent and emergency care through the NHS 111 service, allowing better allocation of patients to the appropriate department.2–4 This emphasis on NHS 111 can be seen by how this service has developed over time:2,3,9,10
in 2017, NHS 111 online was launched; it was envisioned that, by March 2018, more than 30% of NHS 111 calls would receive clinical assessment
in 2019, over 50% of callers received a clinical assessment, NHS 111 had the facility to book appointments in UTCs across the country, and the NHS was integrating a multidisciplinary CAS to support decision making
in January 2023, amid winter pressures, 47.8% of triaged callers spoke with a clinician or a clinical advisor
ongoing initiatives aim to integrate NHS 111 into the NHS app and introduce further service options, including direct access to paediatric advice and urgent mental health support.
Standards and Services
As part of the drive to improve urgent care, the NHS stipulated that all patients should be able to access UTCs by December 2019 and that, to provide as much consistency as possible, UTCs should meet the core standards outlined in Box 1.
4
Most importantly, UTCs must be open for at least 12 hours every day, and have access to some simple diagnostics (such as electrocardiography, urinalysis, and near-patient blood testing), including X-ray facilities in some cases.
3,4
Box 1: Core Standards for UTCs4
Patients and the public will:
be able to access UTCs that are open at least 12 hours a day, GP-led, staffed by GPs, nurses, and other clinicians, and have access to simple diagnostics, e.g. urinalysis, ECG, and in some cases X-ray
have a consistent route to access urgent appointments offered within 4 hours and booked through NHS 111, ambulance services, and general practice. A walk-in access option will also be retained
increasingly be able to access routine and same-day appointments, and OOH general practice, for both urgent and routine appointments, at the same facility, where geographically appropriate
know that the UTC is part of locally integrated urgent and emergency care services working in conjunction with the ambulance service, NHS 111, local GPs, hospital A&E services, and other local providers. 
UTC=urgent treatment centre; ECG=electrocardiogram; OOH=out-of-hours; A&E=accident and emergency

NHS England. Urgent treatment centres—principles and standards. London: NHS England, 2017. Available at: www.england.nhs.uk/wp-content/uploads/2017/07/urgent-treatment-centres%E2%80%93principles-standards.pdf

Contains public sector information licensed under the Open Government Licence v3.0.
Organisation and Integration
In most cases, UTCs should preferably be colocated with existing primary care facilities, such as GP OOH services, CASs, or GP access hubs.4 Ideally, UTCs would also have strong links to, and be colocated with, other acute community services where possible—including mental health crisis support, dental care services, and social care services, to name a few—and, where viable and beneficial, with A&E.4 Where several of these facilities are brought together in one location, usually with UTC involvement, the service may be deemed an 'integrated urgent care (IUC) treatment centre', although these are more vaguely defined than UTCs in a way that is reminiscent of the pre-existing name-related confusion.
UTCs are classified as type-3 A&E units, with patients contributing to 4-hour wait statistics; however, somewhat confusingly, they are meant to be viewed as a community service rather than an extension of A&E.4 Appointments are primarily booked through NHS 111, which is intended to become the default method of accessing UTCs over time, but a walk-in service is to be retained.4 In this way, they play a central role in the proposed integration of services across the NHS.
Are UTCs Working as Intended?
ED Performance
Because of current pressures on emergency care, it is difficult to view the effectiveness of UTCs through the prism of ED performance. There has been a surge in urgent and emergency care use this winter, with flu, Streptococcus pyogenes, and respiratory syncytial virus outbreaks placing excessive demand on the system.10–13 Before even taking into account pressures exerted by the COVID-19 pandemic, the prepandemic picture was one of rising numbers of patients of increasing complexity attending EDs, more of whom were destined for admission despite reductions in in-patient bed availability.2,14
Use Through NHS 111
Data on the use of UTCs may provide an alternative measure of their effectiveness. The use of UTCs since 2019, and subsequent statistical analysis, has obviously been affected by the pandemic; nevertheless, data on their utilisation are available, notably for the year 2021–2022 (see Figure 1).15–18
Of the almost 18 million calls answered by the NHS 111 service, around 16.7 million were given a 'disposition' (a determination of the level of care that is required, with an associated timeframe).16,17 Nearly 3.4 million of these callers (approximately 20%) were given a booked appointment of some sort, with nearly 1.9 million receiving ambulance dispositions.16,17 Of those for whom an appointment was booked, approximately:16,17
35% were booked into a UTC (424,000 appointments at standard UTCs, and 764,700 at IUC treatment centres)
38% were booked appointments with either their GP or a GP access hub
18% were booked a time slot with a type 1 or 2 A&E.
Figure 1: NHS 111 and Integrated Urgent Care Statistics for 2021–202216,17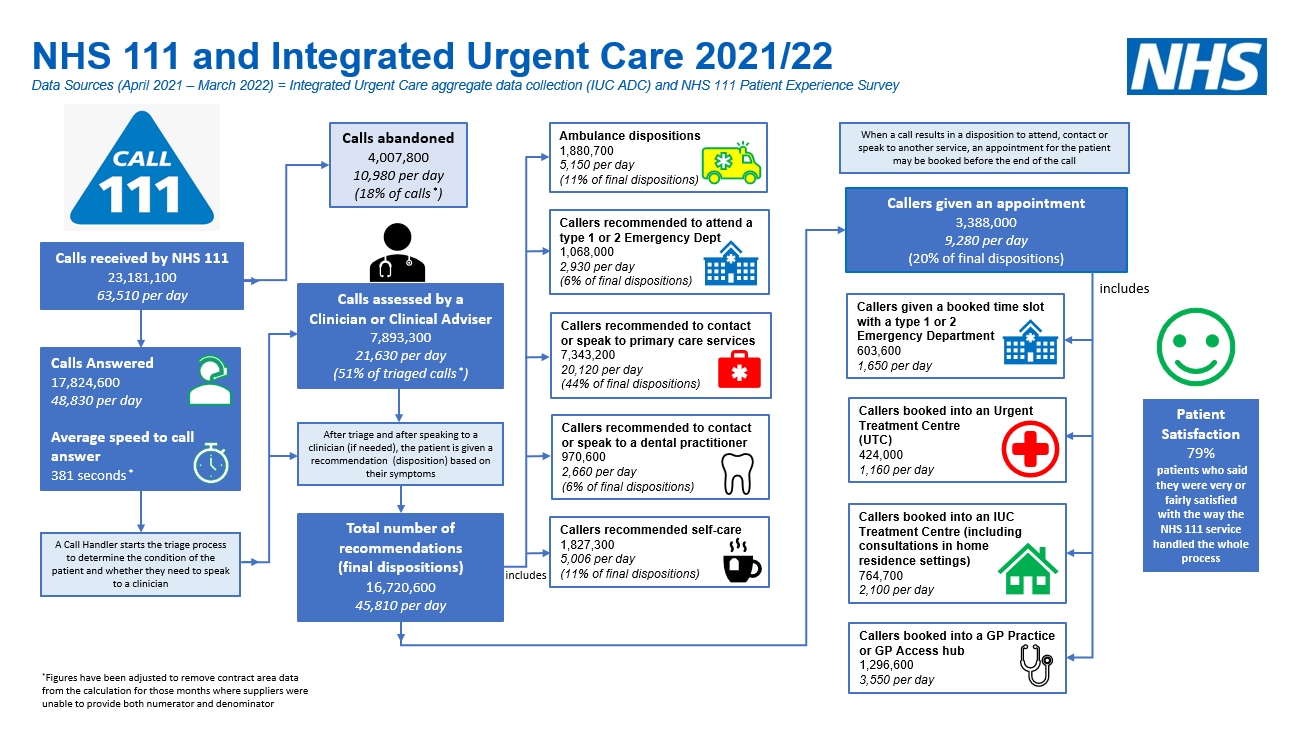 In summary, of those calling NHS 111 and being given a final disposition, just over 7% were given appointments at UTCs or IUC treatment centres in 2021–2022.
16,17
In contrast, 44% of people who were given a final disposition were directed to contact or speak to primary care services, 11% were recommended self-care, and 10% were given an appointment at, or advised to attend, A&E (types 1 and 2).
16,17
These figures suggest that, although UTCs are being used as a part of the urgent and emergency care pathway, they could certainly be utilised more effectively. Indeed, based on my experience, it appears that NHS 111 does find it easy to book patients into UTCs, but that NHS 111 is not being used as effectively as intended—this is in part because patients who attempt to present to their GP are often directed to NHS 111, undermining the triage process. 
Ongoing Development of UTCs
The establishment and improvement of UTCs in England is part of an ongoing process to improve urgent and emergency care, reflected in plans across the UK.
England
In January 2023, NHS England and the DHSC published a joint strategy document acknowledging the current pressure on emergency care and outlining their 2-year plan for recovery.19 The plan places a familiar emphasis on making it easier for patients to access the right level of care, and proposes improving NHS 111 and extending clinical assessment capabilities in ambulance control centres.19 However, mention is also made of expanding and more effectively utilising UTCs, as well as helping patients to navigate them more easily.19
The ongoing development of integrated care systems (ICSs)—after their formulation in the NHS long term plan and subsequent formalisation as legal entities in July 2022—has a similar aim of achieving coordination between services.2,20 The 2022 Fuller stocktake report, commissioned to support the integration of primary care into ICSs, emphasises the importance of bringing together the wider, more fragmented urgent care system into a 'single integrated urgent care pathway in the community that is reliable, streamlined, and easier for patients to navigate'.21
Wales and Scotland
Similar plans are evident in Scotland and Wales. In Wales, following the national roll-out of NHS 111 in 2021–2022, plans are in place to establish UTC-like urgent care services throughout the country in 2023.22 In Scotland, the optimal use of emergency care is also fundamental to the NHS's 2021–2026 recovery plan: the Redesign of Emergency Care programme is scheduled to be expanded, so that people can more easily access rapid medical advice and dispositions through the national telehealth organisation NHS 24.23
Summary
UTCs are set to play an ongoing and vital role in the integration of primary and urgent care across the NHS, and it is hoped that their utilisation will increase as clinicians and patients become more aware of what they can offer and how to access them. These GP-led, community-based urgent care services are a great opportunity for the NHS to capitalise on the expertise of primary care clinicians, who know how to manage patients in the community effectively and the uncertainties inherent in this.
Key Points
The reform of urgent and emergency care in England has been a priority of NHS development for several years, and the standardisation of a number of urgent care services—including WICs, MIUs, and UCCs—into UTCs is part of this drive
It is hoped that the standardisation, improvement, and coordination of patients' access to urgent and emergency care—centred around the expansion of NHS 111—will make the NHS more efficient, allowing for more appropriate attendances at UTCs, and reduced attendances at EDs by patients who do not require emergency care
The intention is that most people will access urgent and emergency care through NHS 111, allowing better allocation of patients to the appropriate department
UTCs are required to be open for at least 12 hours every day and have access to some simple diagnostics (such as ECG, urinalysis, and X-ray facilities)
Ideally, UTCs would be colocated with existing primary care facilities, such as GP OOH services or CASs, as well as other urgent care services, such as mental health crisis support or dental care services, and A&E departments (where viable and beneficial)
UTCs are type-3 A&E units, with patients contributing to 4-hour wait statistics, but are meant to be viewed as a community service rather than an extension of A&E
UTC appointments are primarily booked through NHS 111, but a walk-in service has been retained
Data from 2021–2022 on the use of UTCs and NHS 111 suggest that UTCs are becoming established as part of the urgent and emergency care pathway, but could be used more effectively
Ongoing national initiatives indicate that there is still work for the NHS to do in its attempts to standardise and integrate urgent and emergency care; UTCs and other primary-care-delivered urgent care services will play a pivotal role in this reform.
WIC=walk-in centre; MIU=minor injuries unit; UCC=urgent care centre; UTC=urgent treatment centre; ED=emergency department; ECG=electrocardiogram; OOH=out-of-hours; CAS=clinical assessment service; A&E=accident and emergency