Sian Lambert and Dr Anthony Cunliffe Explore the Potential of Care Coordinators and Other ARRS Roles to Develop Personalised Cancer Care at a Network Level
Read This Article to Learn More About:
how personalised care in community settings can significantly improve the quality of life of patients living with cancer
ways in which primary care can improve personalised cancer care with funding from the Additional Roles Reimbursement Scheme and the Quality and Outcomes Framework
the potential of cancer care coordinators to enhance the delivery of personalised care.
Reflect on your learning and download our Reflection Record.
Everyone's experience of cancer is unique. The issues affecting people with cancer—both medical and nonmedical—are extremely varied, and living with cancer affects an individual and those around them in myriad ways at different points of their experience with the disease. 
This uniqueness of experience is the impetus behind the NHS's recent drive to improve personalised cancer care, embodied in the NHS long term plan's aim that 'every person diagnosed with cancer will have access to personalised care, including needs assessment, a care plan, and health and wellbeing information and support'.1,2 Personalised cancer care is part of a wider NHS ambition to establish a 'Personalised Care' model that prioritises joined-up care centred around the individual service user and their wider needs.1,3 Without providing truly personalised care, the NHS risks letting people live with a high level of unmet need that significantly impacts their health and quality of life (QoL).2,3
Personalised care cannot be delivered by an individual healthcare professional (HCP). It requires a multidisciplinary approach that ensures that people are offered high-quality, supportive conversations in the right place, at the right time, and with the right professional.3–5 For many people, this will not be a one-off conversation, as their needs will change.4
This article outlines the essential role of primary care in providing personalised care interventions for people living with cancer, discussing the role of cancer care coordinators and other new practitioners in improving their care.
The State of Personalised Cancer Care
In the management of cancer, personalised care is provided through several interventions:5–9
Holistic Needs Assessments (HNAs)—conversations between a patient and a practitioner about their needs, which may involve use of an assessment tool or questionnaire
Personalised Care and Support Plans (PCSPs), developed through HNAs
end-of-treatment summaries (EoTSs), produced by secondary care at the end of a patient's cancer treatment and shared with both the patient and primary care
Cancer Care Reviews (CCRs)—formalised conversations between a patient and a primary care practitioner about the patient's cancer care, conducted within 12 months of diagnosis; these use Macmillan Cancer Support's electronic template, which is integrated into GP information technology systems, and are the focus of primary care's personalised care offering
health and wellbeing information and support.
The provision of these interventions—other than CCRs, which are exclusive to primary care—is a responsibility of hospital teams.
10,11
For PCSPs, EoTSs, and HNAs in particular, there is an associated mandate for secondary care to report their delivery into national datasets,
10,11
and these data show that not everyone with cancer is receiving these important interventions. In April 2022, only 28% of eligible patients in England were offered an HNA in secondary care, and only 10% were offered a care plan to address their concerns.
12
This leaves a significant proportion of people unsupported. A collaborative approach between primary and secondary care may greatly increase these numbers, and create more opportunities for issues to be identified and addressed.
The Role of Primary Care
Despite being under the care of specialist teams while going through cancer treatment and often during follow-up, people with cancer only spend a small proportion of their time in the acute setting. However, in our experience, primary and community care do not prioritise proactive conversations with patients with cancer about the support available to them outside of the acute setting.
However, there is evidence to suggest that conversations about holistic care are more effective when they happen in a primary or community setting. A 5-year trial of structured, individualised cancer support in Glasgow, utilising primary-care HNAs, demonstrated that these kinds of pastoral conversation are more effective at identifying patients' wider needs when they happen outside of the acute setting.13 Secondary care clinicians are also less likely to know of the services that are available in the community, so may not be able to signpost or refer to them effectively.
Personalised care is a core principle of primary care; indeed, the contractual frameworks associated with primary care—in particular, the Quality and Outcomes Framework (QOF), and the Primary Care Network (PCN) Directed Enhanced Service (DES) and associated Investment and Impact Fund—encourage practitioners to proactively reach out to people living with long-term conditions (LTCs) to offer them a review and development of a care plan.14–17 
Financial Incentives
Past Financial Incentives
Before the 2021–2022 financial year, the only aspect of personalised cancer care in England with any associated primary-care funding incentive was a one-off CCR conducted within 6 months of diagnosis.18 This CCR was a QOF indicator until 2020–2021, and would generally be undertaken by a GP.18 The format was not laid out explicitly, and—perhaps more importantly—there is little evidence about the impact of these reviews on patients.7
Demonstrating the issue, only 18.0% of respondents to the 2021 Cancer Patient Experience Survey (CPES) reported receiving a cancer review from their GP surgery.19 This is in stark contrast to the QOF data submitted that year, in which practices reported offering this review to 79.4% of eligible patients on the cancer register.20 This suggests that a significant number of cancer patients—perhaps as many as 61.4%—were given a CCR in primary care without knowing it, an issue that may relate to miscommunication, language barriers, or a lack of robust processes.
QOF Developments
Encouragingly, NHS England changed the required elements and timelines for CCRs in the 2021–2022 QOF, and these changes remain in the present version (see Table 1).14,21 The two new elements require participating practices to:14,21
reach out to patients around the time of a cancer diagnosis (within 3 months), offering support and informing them of the primary care services available to them (CAN005)
offer a more holistic review within 12 months of diagnosis (CAN004) that, for many, could mean a review at the end of the acute phase of treatment—this is a pivotal time in cancer recovery, when many people report feeling like they have 'fallen off a cliff' in terms of aftercare.22
Early data suggest that these changes are having a positive impact. QOF statistics for 2022 demonstrate a significant rise in the number of CCRs taking place in primary care: whereas 79.4% of practices achieved CAN003 in 2021, 95.5% achieved CAN004 in 2022.20,23 The same can be said for the CPES, for which the percentage of patients reporting receiving a cancer review in primary care rose from 18.0% in 2021 to 20.7% in 2022.19,24
Table 1: QOF 2023–2024—Ongoing Cancer Management14
Element
Points
Thresholds
CAN004—the percentage of patients with cancer, diagnosed within the preceding 24 months, who have a patient CCR using a structured template recorded as occurring within 12 months of the date of diagnosis

6

50–90%

CAN005—the percentage of patients with cancer, diagnosed within the preceding 12 months, who have had the opportunity for a discussion and informed of the support available from primary care, within 3 months of diagnosis

2

70–90%

QOF=Quality and Outcomes Framework; CCR=Cancer Care Review
NHS England. Quality and Outcomes Framework guidance for 2023/24. London: NHS England, 2023. Available at: www.england.nhs.uk/wp-content/uploads/2023/03/PRN00289-quality-and-outcomes-framework-guidance-for-2023-24.pdf

Contains public sector information licensed under the Open Government Licence v3.0.
The Additional Roles Reimbursement Scheme
These changes to the QOF have coincided with expansion of the Additional Roles Reimbursement Scheme (ARRS) within PCNs. As of December 2022, 25,262 additional full-time-equivalent staff have been recruited as part of the scheme, and it is still being extended: for example, Advanced Clinical Practitioner Nurses were added to the list of reimbursable roles for the 2023–2024 financial year.15,25 This expansion means that many practices have access to new staff who can help to deliver personalised care interventions.26
The recruitment of care coordinators (including cancer care coordinators), social prescribers, and health and wellbeing coaches is a particularly promising opportunity for improving personalised cancer care. Figure 1 outlines the idea behind these three key personalised care roles in primary care.27
Figure 1: Personalised Care Roles in Primary Care27
ARRS Staff and Cancer Care
With the right support and education, these new members of staff may be able to take on the responsibility for certain aspects of cancer care, including CCRs. Many ARRS staff already have the skills to offer holistic and pastoral conversations to patients as part of a review of their care, and are likely to be supporting people who have multiple medical issues, LTCs, or psychosocial problems.15,16,26,28 They can empower people to recognise the ways in which cancer is affecting their QoL, potentially by using needs-assessment tools, and refer or signpost them to services that may help to meet their needs. In this regard, people in appropriate ARRS roles may even be in a position to offer a greater level of individual support than those in other clinical roles, both in primary and secondary care, as they may be more likely to prioritise this underappreciated aspect of care.
In our experience, a growing number of PCNs seem to be supporting and encouraging ARRS staff such as care coordinators and social prescribers to take on the responsibilities of delivering CCRs and offering help to people living with cancer in other ways, such as by supporting their navigation of the complex cancer health system. This is a promising development in personalised cancer care, and may be of particular benefit to those in greatest need of support.
HNAs 
HNAs are key to this development, and can be carried out by any HCP in any GP practice in the UK, either on paper or through Macmillan Cancer Support's web-based platform.29,30 The tool can be used by care coordinators, social prescribers, or any other practitioners as a way to help a patient to identify the needs that are most affecting their QoL.6,30 The practitioner can then create a care plan with the patient centred on these needs that, if undertaken on the web-based platform, can then be accessed digitally by the patient, the person delivering the intervention, and secondary care.29,30
Cancer Care Coordinators
Cancer care coordinators have great potential to improve personalised cancer care. In primary care, the role of the cancer care coordinator—just like any other care coordinator—is to organise care for specific patients, facilitating joint working between different teams and organisations and supporting patients to participate in their own care, navigate the health system, and obtain support from the right services at the right time.15,28,31 This is a key benefit of the cancer care coordinator role: they can bring together multidisciplinary teams (MDTs) to collaborate in the management of a person's complex health and care needs, bridging the gaps between secondary, primary, and community care.15,28,31
One specific instance in which a cancer care coordinator is invaluable is soon after diagnosis, when they can contact the patient and offer them support and an opportunity for discussion (in line with QOF indicator CAN005).14 During this interaction, cancer care coordinators can acknowledge the patient's diagnosis and offer to be a direct point of contact for them to discuss any concerns, solidifying the concept of 'joined-up care' for the patient and helping them to both find immediate sources of support and prepare for a future CCR (within 12 months of their diagnosis). As with any other review relating to cancer care, there should be a linked clinician who can provide medical support or advice if needed.15,27,28
Support for ARRS Professionals Conducting Cancer Care
It is important that care coordinators, social prescribers, and other members of staff taking on these responsibilities are supported and supervised in the right way. The recommended supervision for ARRS staff depends on the role, but usually involves access to at least monthly supervision from another member of the MDT, such as a GP or advanced practitioner.15,28 For care coordinators, the PCN DES specification requires that they have a named GP who provides them with supervision and support, covering areas such as following appropriate safeguarding procedures.15,27,28 PCNs are also encouraged to include these members of staff in MDTs, ensuring that their boundaries are identified and there is a place for them to escalate concerns when supporting patients.15,28
Macmillan Cancer Support organises the Personalised Care and Support Planning Community of Practice, which is accessible through its learning hub and open to any professionals with an interest in the area.32 For cancer care coordinators, there is also a national cancer care coordinator community of practice, which has over 300 members and meets monthly to discuss concerns and encourage innovation in cancer care. These sessions offer support for others in similar roles, helping them to identify their boundaries when supporting patients and learn how to link patients to services that match their needs.
Education and Development
There are several educational opportunities available for GPs, ARRS staff, and other practitioners looking to provide personalised cancer care, including elearning offered by Macmillan Cancer Support,32,33 GatewayC,34 and the Personalised Care Institute.35 Primary care has become a key focus for education pathways and career progression in UK cancer care, as shown by the recent development of the Aspirant Cancer Career and Education Development (ACCEND) programme.36,37 This includes educational opportunities for nonclinical roles.37 
Cancer Care Coordinators in Kent and Medway
In 2022, a pilot project was conducted in the Kent and Medway region to investigate the impact of introducing cancer care coordinators in primary care. The evidence collated shows the benefit of employing cancer care coordinators, as the practices with access to dedicated cancer care coordinators achieved significantly better results on the CAN005 QOF indicator (see Table 1) than practices without them.

In Figure 2, 2022 CAN005 data are compared from four GP surgeries with, and four without, dedicated cancer care coordinators able to contact newly diagnosed patients and offer them support.38 
Figure 2: Percentage of Newly Diagnosed Patients Offered an Opportunity for Support and Discussion Regarding a Cancer Diagnosis in Kent and Medway Practices in 2022 (in line with QOF CAN005)38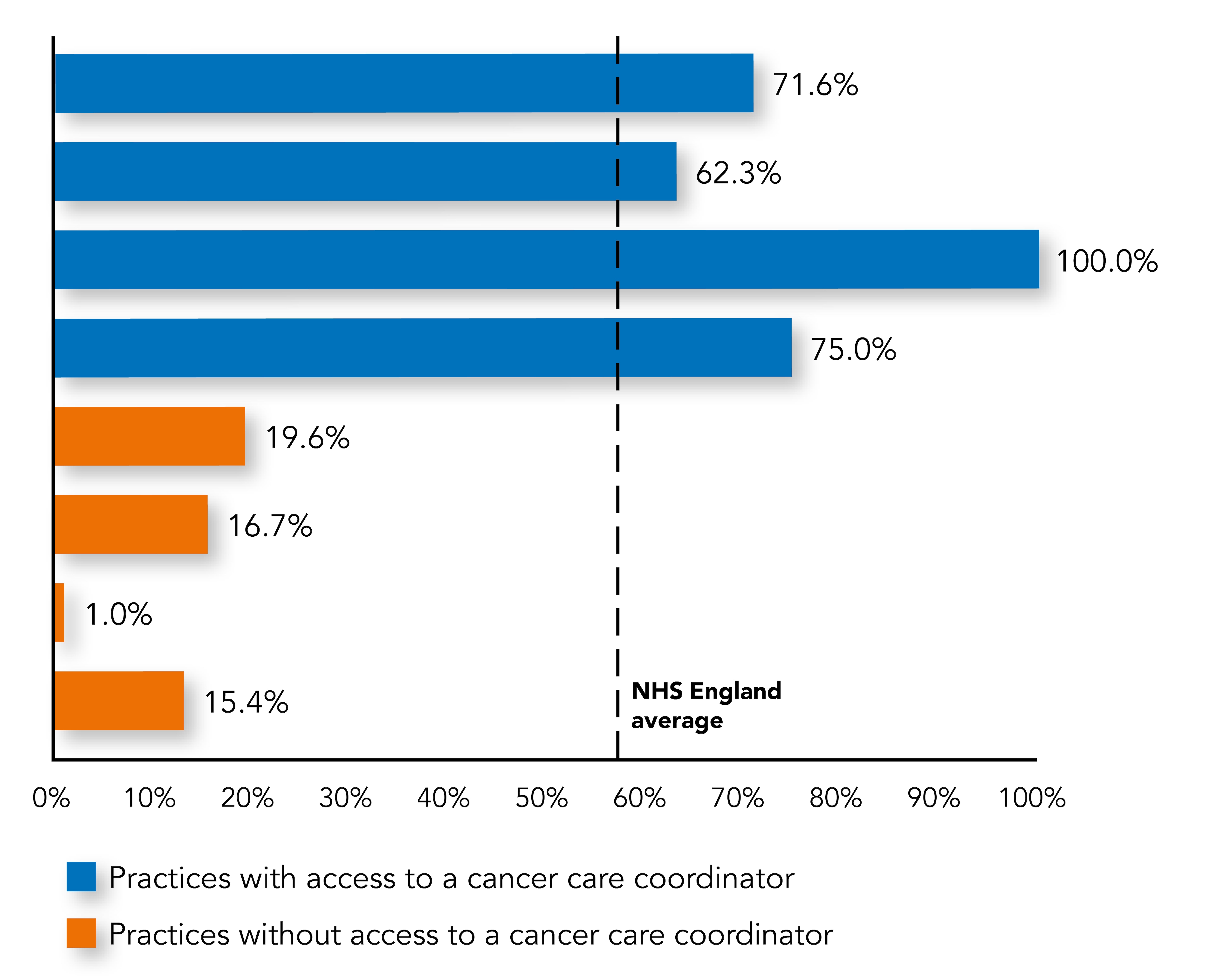 Summary
Primary care teams play a vital role in delivering proactive, personalised care to people living with cancer, which can have a significant impact on an individual's QoL. Delivering personalised care should be considered part of the role of any health or social care professional, and such care is important for anyone with a cancer diagnosis. Emerging care coordinator roles may prove crucial in helping to facilitate this effectively in primary care.