View from the Ground, by Muhammad Siddiqur Rahman, Nuala Hampson, and Wendy Tyler-Batt
The role of pharmacy teams in general practice focuses on the many facets of medicines optimisation as set out in the NHS Long Term Plan.1 Pharmacy teams use their expertise in medicines optimisation to obtain the best health outcomes for people through the use of medicines; in many cases, this can also deliver sustainability gains and have distinct environmental benefits.
This article gives examples of how the activities performed during a pharmacist's typical day in general practice align with the principles of sustainable healthcare, and may contribute to improving both human and planetary health.
Pre-clinic Preparation, 08.30–09.00
During this time, the pharmacist will prepare for the morning medication review clinic of same-day and booked appointments, and source relevant patient resources to send electronically to patients. Digital resources are becoming appropriate for an increasing number of patients; they also decrease carbon footprint as a result of reduced printing and posting. Providing information to patients to encourage self-care and optimise understanding of their condition and treatment aligns with the first two principles of sustainable healthcare—disease prevention and health promotion, and patient education and empowerment to self-care (see Figure 1).2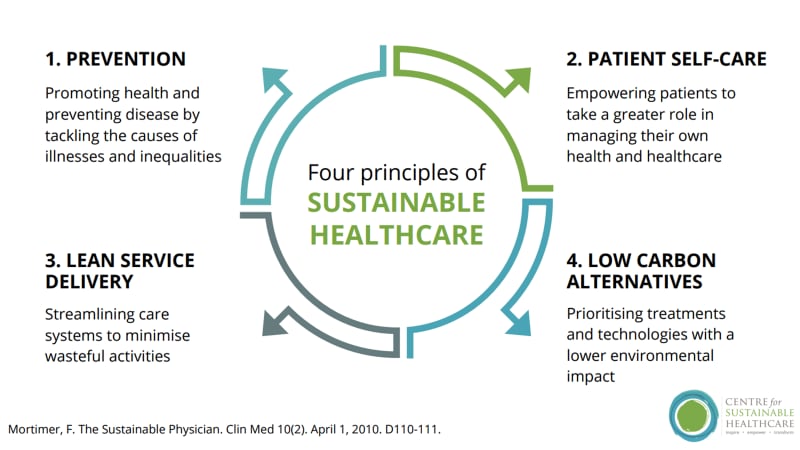 Medication Review Clinic, 09.00–12.00
Twelve 15-minute Appointments
Most medication reviews are now carried out remotely, either by telephone or video call. In many cases, this is more convenient for the patient, and reduces disruption to the patient's day. It also reduces patient travel, which contributes to the nonclinical carbon footprint of primary care.4 Medication reviews may encompass patients with complex medication queries and/or long-term conditions, mental health reviews, medication titration, aligning repeat medication, streamlining monitoring, and deprescribing. All of these have the potential to align with the principles of sustainable healthcare (see Figure 1) by empowering patients through shared decision making and efficient service delivery.
Supporting the Fulfilment of PCN DES Investment and Impact Fund Criteria
Asthma reviews are one example where Investment and Impact Fund indicators are linked to improving disease control with an opportunity to deliver environmental benefits.5 An easy-to-use suite of resources is available from the High quality and low carbon asthma care toolkit,6 with guidance on how to change patients to lower-carbon metered-dose inhaler options or dry-powder inhalers where clinically appropriate. Access to reliable, up-to-date information on inhaler devices and medication options is invaluable.7
Medication Queries, 12.00–13.00
Six 10-minute, Same-day Telephone Consultations
Medication queries include repeat prescription queries, out-of-stock medication options, dose titration, and review of blood test results. Interventions often result in deprescribing and aligning the supply of medicines, with positive effects on carbon footprint and pharmaceutical pollution at both a macro (packaging) and micro (medication) level.
Clinical Discussions and Meetings with the GP and Multidisciplinary Team, 13.30–14.00
Clinical multidisciplinary team meetings and informal discussions examine how the practice can function more sustainably using the Green Impact for Health toolkit8 —for example, by switching devices off at the end of the day, reducing printing, and recycling nonconfidential waste.
Medication Safety Checks, 14.00–16.00
In this part of the day, the pharmacist will typically deal with 30–60 prescription queries. These include switches to electronic prescribing and repeat dispensing, which can reduce paper and ink usage, and monitoring high-risk medications, which provides an opportunity to streamline monitoring for patients. All queries are covered in one visit, reducing patient travel and test consumables. Examples that align with principles 3 and 4 of sustainable healthcare (see Figure 1) include using a text messaging service such as Accurx9 instead of posting letters for recall appointments, and sending an electronic blood test form with barcodes via email instead of printing out forms.2 Care must always be taken to accommodate patients who are unable to use these systems.
Long-term Condition Review Clinics or Medication-related Administration, 16.00–17.30
Face-to-face appointments cover long-term conditions such as asthma, chronic obstructive pulmonary disease, type 2 diabetes, or high blood pressure, and/or practice medication-related admissions. Where appropriate, shared decision-making conversations can include discussing the planetary health benefits of dietary and lifestyle changes10,11—for example, walking or cycling instead of driving—on a patient's health, which also have the potential to reduce local air pollution and lower carbon emissions.12
Furthermore, if nonpharmacological interventions can help to reduce or limit the progression of long-term conditions, this may also help to reduce polypharmacy and its associated carbon footprint, pharmaceutical pollution, and visits to GP surgeries and pharmacies. Patients are advised to only order the medications they require, and to return unwanted medicines and used medical devices such as empty inhalers to community pharmacies for safe disposal.
Completion of referrals to social prescribers—who can offer support for patients at home—is intended to reduce the need for extra medications for pain or referral to mental health services such as occupational therapy.13
Summary
Clinical practice-based pharmacists can help general practices and primary care networks to undertake a wide variety of activities in primary care that align with the principles of sustainable healthcare to help deliver a net zero NHS.
For NHS England's guidance on delivering a net zero NHS, click here.
Muhammad Siddiqur Rahman
Clinical Practice-Based Pharmacist, Court View Surgery, Kent; member of Pharmacy Declares
Nuala Hampson
Senior Pharmacist at Centre for Pharmacy Postgraduate Education; member of Pharmacy Declares
Wendy Tyler-Batt
Clinical Pharmacist, Parachute Team at NHS Gloucestershire Integrated Care Board; member of Pharmacy Declares